Asha was a gentle soul.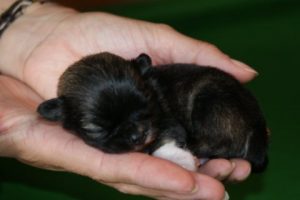 He had been a healthy wee chihuahua pup who would have grown up and brought sunshine to eveyones lives who met him – as he did in the 18 short days he had with us. I tube fed him every two hours through the day and three hourly at night. We had a great (yet tiring) feeding relationship where I would tube feed him then put him on his mum to feed for 15 minutes. His poor mum Piper, has taken his passing very badly and howled the house down the first night. She still races up the hallway into the room we had them in, crying out for him and digging around whining.
It breaks my heart seeing her so distressed and just hope as each day passes she slowly forgets. I did show her him, to bring closure, but it still hasn't sunk in.
I adored him and miss him every minute of the day. He was an angel only lent to us and one that touched my heart deeply.
Susan