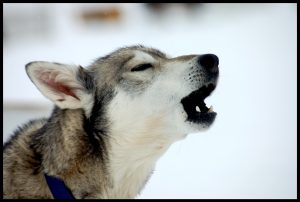 Helene was a much-loved Alaskan husky who traveled the world racing as a sled dog.
She was born in Norway and spent her early years racing for a top Norwegian musher. She then raced in Alaska for a few years which is when I (Mark), first met her. I later became her owner and used her as my main lead dog to train puppies and yearlings how to race. She competed in the Iditarod – the longest race in Alaska and Finnmark – the longest race in Europe.
Helene and our other retired sled dog Joseph immigrated to New Zealand in 2010. We lived in Mapua (near Nelson) for a few years and Helene and Joseph both had their 15 seconds of fame when they appeared in the Nelson Mail. Despite not having seen the sea before and being used to snow on the ground for 7 months a year, they quickly got used to living by the beach.
Though Helene was a tough sled dog, she much preferred the comfort of sleeping on the bed and snuggling up to Mark in front of the fire. Although she was very close with Joseph, she loved hanging out with people. We miss her terribly but know it was time for her next adventure in the happy hunting ground in the sky.
Mark Chin & Stephanie Lawlor