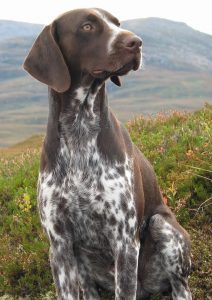 I am as sad as I have ever been in my 55 years and with the heaviest heart! Our Dog Tori, our not so old GSP chap died, at home in front of the fire, peacefully and with complete dignity, in both Catherine and my arms last Friday morning at 9.15. He was diagnosed with lung tumours and other underlying cancers a few months ago and we embarked upon a series of Chemotherapy to reduce his tumours and make him more comfortable and this it did! He subsequently became a house dog, with his own front door and a smoking jacket to boot! A position from which he could run out to do what comes naturally, but more importantly meet and greet Catherine and I, coming home every work-day evening!
There are times in our very short lives, when we may be sufficiently lucky, or privileged enough to touch upon something very special indeed, a symbiotic relationship, tens of thousands of years in the making, that grew from the wolf coming to the shelter and warmth of the fire provided by the early human, bringing their canine hunting ability, allegiance and security. Tori, was always, body and soul, Catherine's shadow and the ultimate devoted companion, never to be found more than a few feet away, unless of course he was out in front of the Gun or Rifle, on the scent of a feather or fur, or more recently down under in Aotearoa, a Wallaby! This relationship and his utter loyalty could not have been more meaningfully expressed, or more gratefully recognised, than during the period when I left for New Zealand in 2009. I reluctantly departed Dunragit (Scotland) for the new life we planned in South Island NZ, leaving Catherine with the business to sell and single-handedly run in the interim, and the worst winter the UK had seen in many, many, years! Tori instinctively and intuitively expanded to fill that companionship void, with even more of his particular individual canine brand of loyalty, duty and security, absolutely attuned to Catherine!
Tori's accolades included: Championship show awards; he'd been to Crufts; he'd won working awards in both sides of the globe, latterly a Field trial in NZ in 2013!
The accolades Tori tried to forget (part of a very long list): World's naughtiest Puppy; The Crufts faux-pas (to keep the other competitors away from his mum he cocked his leg on the 'House of Bruar' ¾ length brown suede ensemble in front of the UK and World television audiences; The World's Best Canine Scree-run Slide of Death and Drop into the ravine (whilst on the trail of some desperate Wild Pigs in Cass NZ, his Dad and Uncle Rob took Tori on an unforgettable 'head them varmints off at the pass' short-cut, during which, Tori, momentarily, believed he could fly, until his paws came to ground alongside the equally battered and bruised human companions); and The Fox pooh Affair (Tori was being Chauffeur driven back to Scotland by his 'Uncle Trevor and Auntie Judith', and understandably tired and emotional after a number of 'Stud appearances' in England an error of judgement was made. He decided that, before getting into the car, a roll in fox pooh would be just the thing, the aroma of which could be savoured by all parties on the long, long trip North, but surprisingly enough, not appreciated by any of the other occupants of the car!
As anybody who had been to our homes, in either hemisphere, would attest, he would be first to bark to forewarn and the first to bring his raggy-toy or any convenient shoe as a tribute to any guest! The dog we were proud to have represent the finest attributes of our GSP lines!
Loyal, Noble, Dutiful, Dignified Friend!
I am hopeful we will see his like again, but could we ever be that fortunate?!!
Tony & Catherine